"Integral means comprehensive, balanced, embracing. When it comes to human beings, integral means maps, models, and practices that include the full spectrum of human potentials, often summarized as 'exercising body, mind,and spirit in self, culture, and nature.'"
– Ken Wilber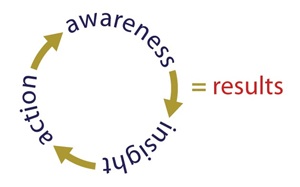 Fundamentally, the integral view recognizes that human beings are not "problems to be solved" (yes, even in the business  world!). Rather, we are each multi-dimensional, complex beings existing in a field of possibility with significant untapped potential!
We bring a focused awareness to every client's unique aspirations, perceptions, relationships, somatic patterns, and external environment, with a view toward the interconnection of all of these domains.
Each coaching program has a customized purpose and outcomes co-designed by the coach and client. A universal aim of all coaching projects is to support clients in becoming more astute observers, thereby accelerating learning, expanding choice, and creating capacity for self-generation and enduring change.
Within the coaching partnership, there is always a mutual engagement: coach and client each deepen their understanding of what it means to be human in ways that are always pragmatic and often profound.