Insight Shift Project Articles of Interest
Unleashing a Positive Revolution in Medicine:
The Power of Appreciative Inquiry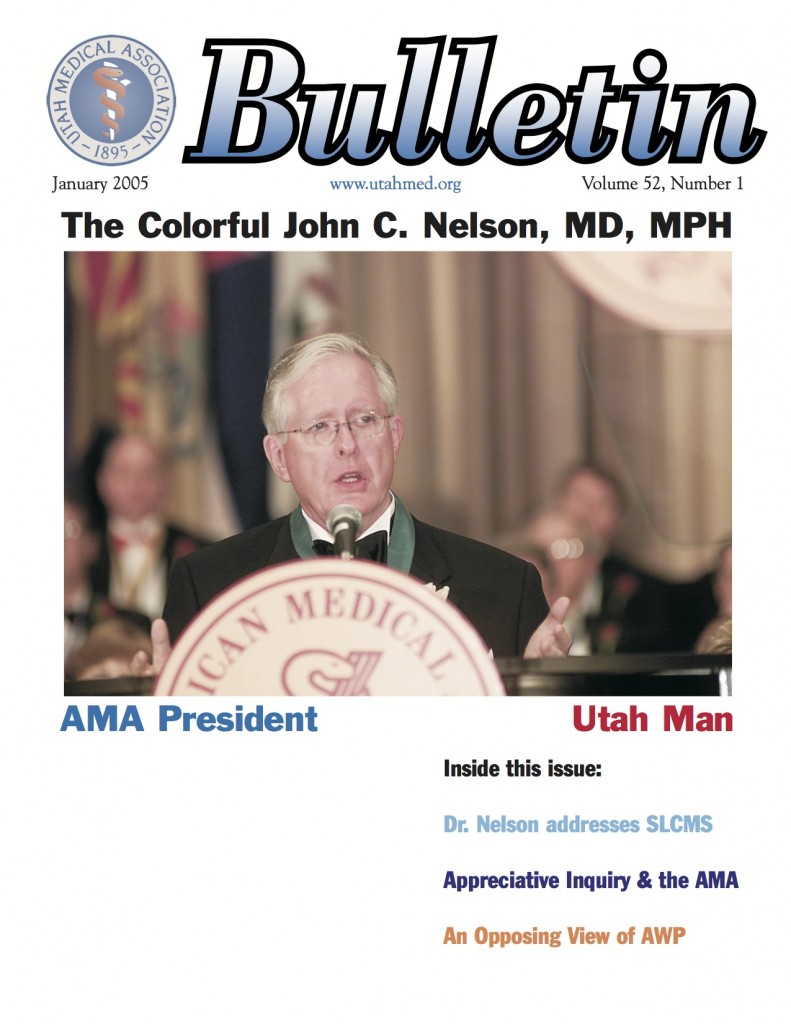 The former American Medical Association (AMA) President, John C. Nelson, M.D., MPH, sought to create a forum that increased collaboration and engaged all members in finding common ground at the annual AMA Presidents' Forum 2005, where more than 300 physician and administrative leaders gather.
Read about the approach Insight Shift took to facilitating leaders at the annual Presidents' Forum in the Utah Medical Association Bulletin, January 2005, Volume 52, Number 1, pp. 8-10:
At the Intersection of Practice and Education:
Developing a Powerful Nursing Alliance
With a critical and growing professional-nursing shortage, the Dean of the Nursing College, Maureen Keefe, Ph.D., and former CNO of the University of Utah Hospital, Jadie Barrie, M.S.N., held a vision of "creating a powerful nursing alliance between clinical and academic nurses" in order to meet the growing demands of educating nurses and providing excellence in patient care.
Read more about Insight Shift's work with University of Utah's Hospital & Clinics and the College of Nursing, in the AI Practitioner, May 2004:
Progressive Definitions within Complex Systems:
Lessons from the YWCA
The National YWCA was the recipient of a pro-bono consulting prize offered by a team of seven consultants from AI Consulting. Colette Herrick, Cheri Torres and Sallie Lee  were all part of the team that donated over $200,000 of consulting to the YWCA. The project focus was to support the YWCA in more fully living into their mission of eliminating racism and empowering women.
Read more about this Appreciative Inquiry Consulting project highlighted in the AI Practitioner, May 2006:
Other Articles of Interest
Moments of Greatness: Entering the Fundamental State of Leadership (Robert Quinn explores leadership from the inside-out,Harvard Business Review, July, 01, 2005)
Mastering Leadership (Bob Anderson, founder and developer ofThe Leadership Circle Profile and Culture Survey, explores the fundamentals of leadership and an "outcomes creative" orientation
In Praise of the Incomplete Leader (Deborah Ancona, Peter Senge, et. al, call to end the notion of the flawless leader who has it all figured out and explore the four fundamental tasks of leadership,Harvard Business Review, February 2007)
Your Company's Secret Change Agents, (Richard Tanner Pascale and  J Sternin, illuminate an under-recognized source of organizational success. Harvard Business Review, May 2005)
Appreciative Inquiry is Not (Just) About the Positive (Gervase C. Bushe explains how Ai might be more aptly named "generative inquiry.")
The Value of Positve Emotions (Renowned researcher and author, Barbara L. Fredrickson, explores how positive emotions broaden and build our repertoire in life American Scientist, 2003.)
Neuroscience of Leadership (David Rock and Jefferey Schwartz summarize neuro-scientific findings that demonstrate how effective leaders help others develop insights)
What Makes a Leader (Daniel Goleman reviews how truly effective leaders are distinguished by a high degree of emotional intelligence,Harvard Business Review, January 2004.)
The Art of Appreciative Inquiry (This is a great introduction to the power of positive inquiry, published by the Harvard Business School, Sept. 22, 2003.)
Integral Medicine: A Noetic Reader (Ken Wilber describes the aims of integral medicine, which integrates the healer into the equation of healing.)
Validation of the Enneagram (Research from SHL, the leading provider of psychometric assessment and development solutions, validates the objective value of the nine types of the Enneagram.)
Illuminating the Blind Spot: Leadership in the Context of Emerging Worlds (Why paying attention to "soft" variables, such as "intention, interpretations, and identity" is critical. McKinsey-Society for Organizational Learning Leadership Project)
Introduction to Integral Coaching (James Flaherty and Amiel Handelsman of New Ventures West)
How to Stay Stuck in the Wrong Career (Herminia Ibarra makes the case for "doing comes first, knowing second" and for a "test and learn" approach to career transition in the Harvard Business Review,December 2002.)
The Heart of Appreciative Strategy (John Sutherland and Jacqueline Stavros explore the militaristic roots of strategy in organizations and provide refreshing, relationally-based alternative frameworks for organizing, planning and achieving. Ai Pratitioner )
Books of Interest
Block, P. Community:

The Structure of Belonging, 

2008.
Bushe, G.  

Clear Leadership: How Outstanding Leaders Make Themselves Understood, Cut Through the Mush, and Help Everyone Get Real at Work,

 2001.
Chalt, R.P., Ryan, W.P., 

Governance as Leadership: Reframing the Work of Nonprofit Boards,

 2005
Cooper, R, Sawaf, A. 

Executive E. Q. 

1998.
Glaser, J.E. 

Creating WE: Change I-Thinking to WE-Thinking and Build a Healthy, Thriving Organization,

2005.
Goleman, D., McKee, A. Boyatzis, R.E. 

Primal Leadership: Realizing the Power of Emotional Intelligence,

 2002.
Goleman, D. 

Destructive Emotions: How Can We Overcome Them?

 2003.
Hammond, S.A., 

The Thin Book of Naming Elephants,

2004.
Hammond, S.A. 

The Thin Book of Appreciative Inquiry,

1998.
Heller S. and Surrenda D. R

etooling on the Run,

 1995.
Isaacs, W. 

Dialogue and The Art of Thinking Together,

1999
Kahane, A. 

Solving Tough Problems: An Open Way of Talking, Listening, and Creating New Realities,

 2004.
Quinn, R. 

Building the Bridge as You Walk on It: A Guide for Leading Change,

 2004
Seligman, M.E.P. 

Learned Optimism: How to Change Your Mind and Your Life, 

1998.
Senge, P., Scharmer, C.O., Jaworski, J. et.al. 

Presence: Human Purpose and the Field of the Future, 

2004.
Stavros, J. Torres, C. Dynamic Relationships,

Unleashing the Power of Appreciative Inquiry in Daily Living,

 2005.
Tutu, Desmond. 

No Future Without Forgiveness, 

2000.