Are you seeking to unleash creativity, collaboration and innovation?
Are you ready to surface ideas and build the energy and commitment to see things through?
We are expert process consultants, meeting designers and facilitators. We have worked with thousands of people bringing strengths-based, solutions-focused methods that create upward spirals of thoughts, actions and behaviors.
The result is creative, out-of-the-box thinking, collaboration and innovation. That, in turn, contributes to exceptional results.
As your consulting and facilitation partner we can help you…
gain

clarity on the project purpose and desired outcomes

design

a high-engagement meeting process

facilitate

a collaborative, productive event

summarize

the products of your meeting(s)

strategize

next steps
We do this for…

Team retreats
Launching new initiatives
Launching a new team
Strategic planning
Strategic alliances
Quality improvement projects
Creating common ground among diverse stakeholders
Team performance
Leadership, board or fund development
Moving from conflict to collaboration
Mentoring and sponsorship
Other purposes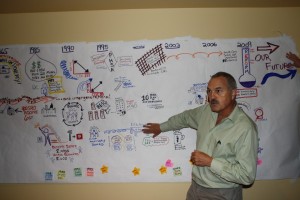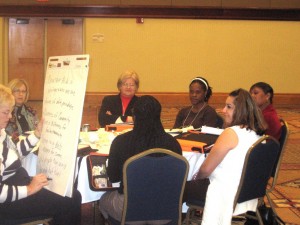 How positive change is created
The role of leader as "mythic hero" with all of the answers is antiquated. Today, leaders are constantly asked to hold the tension of the unknown, while helping people make progress on tough issues.  To accomplish this, a vital leadership function is to convene conversations that skillfully tap collective intelligence and diverse perspectives.
Change the conversation, transform the results
We bring people together to engage in conversations that create alignment while unleashing the energy to move vision to strategic action.
Whether you are looking for help with a whole system change initiative or simply to engage your team in a purposeful retreat, we can help you accelerate outcomes by; eliciting better ideas, raising energy, enhancing resourcefulness, and strengthening understanding, focus, and engagement.
Our approach does more than guide the co-creation of shared visions and solutions. Through an engaging, collaborative process, the energy and commitment for strategic implementation grows.
The benefits of our approach
Increased confidence, competence and energy for change
Enhanced creative thinking and commitment for action
Increased collaboration, innovation, and performance
Expanded perspectives
Increased resilience, professional and personal fulfillment
We work with collaborative approaches such as Appreciative Inquiry and this 5-Step Process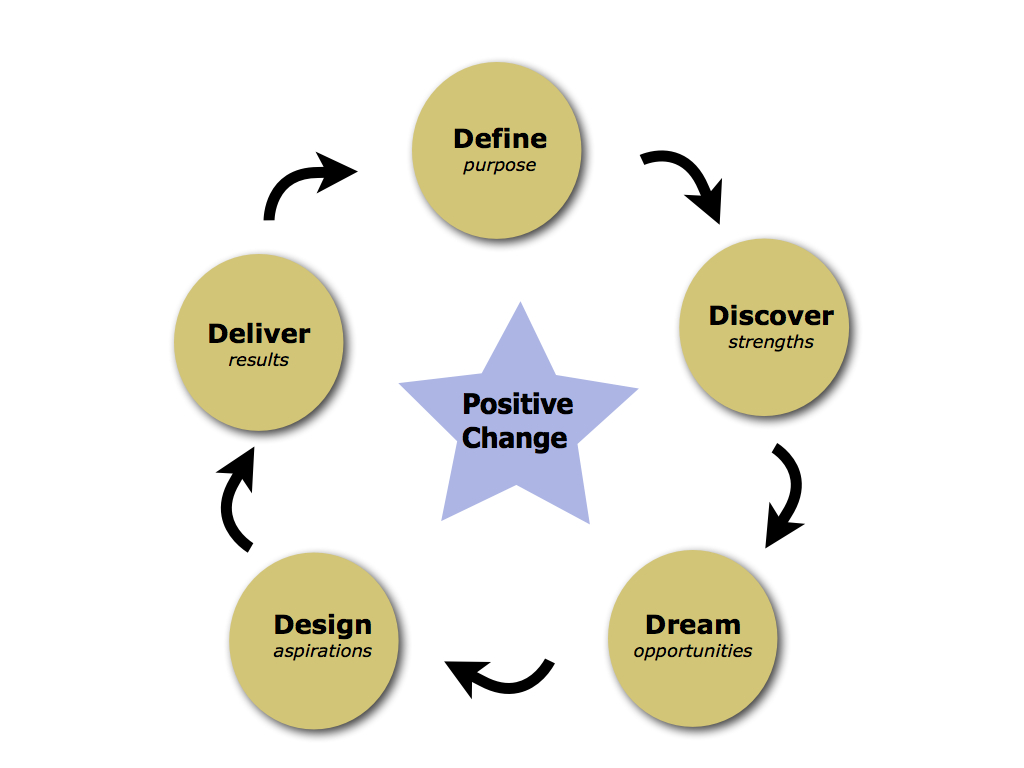 Definition

– explore what success looks like; examine challenges, opportunities, assumptions; scope resources including leadership, steering committee, time allocations

Discovery

 – launch project by identifying the core of strengths – talents, values, innovations, resources, capital, learning, failures, history, and more

Dream 

– envision the preferred future and articulate a shared vision and commitments

Design 

– engage in action planning focused on designing what will have to happen to achieve the desired future

Deliver 

– experience the results; learn, adapt, improve, succeed, innovate; iterate(This is the five-step facilitation process of appreciative inquiry. Appreciative inquiry is a strengths-based, solutions- focused theory, facilitation, and change management approach.)
Our perspectives and promises

Every person holds vast knowledge, creativity, and insights that may be untapped in the day-to-day, frenetically paced work setting.  In today's marketplace, adaptability, relevance and success requires the best ideas and engagement of all employees.
Our promise: ensure the best thinking of everyone is unleashed in purposeful, productive and powerful ways.

What you ask is what you find. Questions are powerful.
Our promise: ask insightful, provocative questions that lead to new ways of thinking, conversing, and achieving.

Creating a better future requires more than simply closing gaps and fixing problems.
Our promise: create the conditions to learn from the best of the past, what is working in the present, and what it will take to move into a bold and preferred future.

Focusing on strengths and solutions helps to generate possibilities, innovation and the motivation for change.
Our promise: design and facilitate strengths-based, solutions focused conversations, tap all voices, and raise energy and engagement.

Moving to action too quickly can result in shallow outcomes, leaving behind the seeds of innovative thinking.
Our promise:  design engagements to ensure the emergence of creative thinking and bold ideas that drive improvement, innovation and excellence.


Trust the "sum is greater than the parts."
Our promise: gain multiple stakeholder perspectives, rapidly build on ideas in paired interviews and small and large work groups to advance ideas. 

Diverse perspectives can be invigorating and lead to innovation.
Our promise: explore assumptions, beliefs and challenges in ways that strengthen understanding and relationships.

Small changes can have big effects.
Our promise: create the conditions to surface ideas and  encourage structures for prototyping actions.

Convening quality, inclusive, purposeful conversations saves time (contrary to the almost universal belief of "not enough time!").
Our promise: convene conversations that support a more intentional way of listening, and generating insights, actions and results.